Blog
INTERNATIONAL CHILDREN'S DAY
INTERNATIONAL CHILDREN'S DAY
Dear Shooting Traveler:
You may have read about the work we're doing to support the Maria de la Esperanza Mission in the Cordoba region. From community centers, to serving hundreds of meals daily, to a mobile health clinic—our goal is to positively affect the lives of the children in Cordoba. Many of you have made donations to the cause, and for that we're sincerely thankful.
Because of your continued and generous support, I'm able to write about a special celebration—in conjunction with International Children's Day—that brings joy to kids who don't often get to experience it. This year, on August 29, we're once again organizing festivities for the underprivileged children of Cordoba. The daylong event will include games and a stage show. We're also providing goody-bags for each child, full of toys they can take home. This all takes place at the Mission's headquarters, with one purpose in mind: to make kids smile. Just thinking about that makes me happy to be a part of it.
Thanks for your time and continued support of David Denies and our social programs. We hope you'll wish us luck with this joyous day.
Sincerely,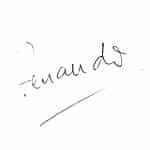 Fernando de las Carreras | CEO & Founder