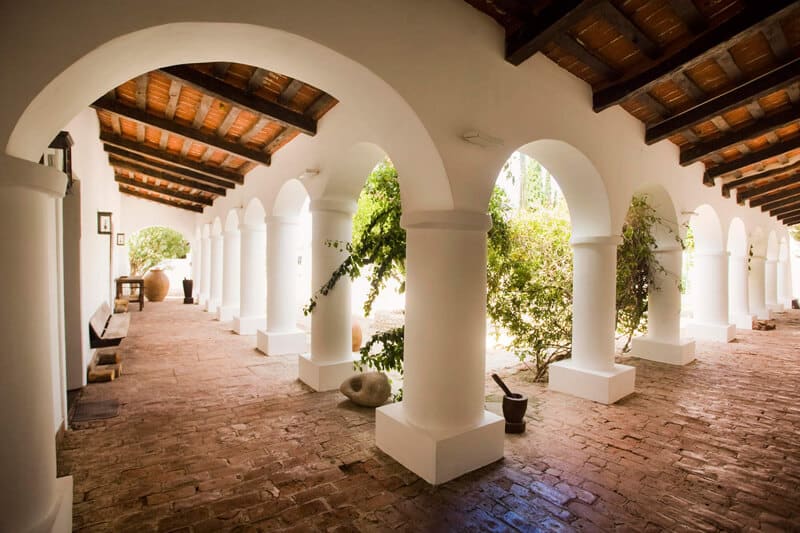 Montaraz Lodge is the most exclusive pigeon hunting lodge in Córdoba. This historical setting is an architectural treasure characterized by an exquisite colonial style. Built in the second half of the 17th century and completely renovated in 2007, Montaraz lodge provides style and comfort from which to enjoy the best pigeon shunting experience ever.
At Montaraz, pigeon hunting takes place the way it's supposed to, with blinds and decoys and skilled scouting endeavors to ensure success. This is hot-barrel pigeon shooting—and you'd better be ready for it. The world's most experienced guns rank wild pigeons among bird hunting's greatest challenges. These pigeons are sly, strong, and fast. And when you've shot them well over decoys, you've done everything right.
Back at the lodge, the chef creates an array of delicious traditional specialties and international dishes. The wine is produced with carefully selected grapes from our own vineyards.
WHY CHOOSE MONTARAZ LODGE?
A 17th-century Jesuit estancia with its own olive oil factory and winery, and where 7,000 head of cattle graze freely alongside Peruvian horses. This majestic private ranch is a true jewel located only 1 hour and 45 minutes from the Cordoba airport.
The only dedicated decoyed pigeon lodge in Argentina, complete with modern equipment and guides trained in all the nuances of pigeon hunting.
10 rooms, so single stays are the norm.
Convenient access and short drives to the action, some of which take place in our own olive groves—a most memorable experience!
À la carte menu, open bar, and plenty of public areas to relax.
Spectacular Argentine barbecues make lunches a highlight.
Two species of fast-flying wild pigeons: white spotted-wing and Pica Zuro pigeons.
Montaraz hunts can easily be combined with additional hunting at any one of our nearby dove retreats
LODGE LOCATION
Coordinates: 30° 45" 060' S, 64° 42"900' W
Montaraz Lodge is located in the province of Córdoba, in central Argentina, 95 miles (150 Kms) northwest of the Córdoba City International Airport. The lodge sits between the "Sierras Chicas" and the "Sierras Grandes". The driving time from the airport to the lodge takes about two hours. Miami (USA), Santiago (Chile), Buenos Aires, Lima (Peru) and Panama City (Panama). Pleasant weather is also a bonus, with more than 320 days of sun per year.
GETTING THERE
Located midway between Santiago, Chile, and Buenos Aires, Montaraz Lodge can be reached from either west or be pigeon hunting at midday on the day of your arrival. Airport), transfer to the domestic airport and take a 1-hr which departs on Saturdays and Sundays. It's great option if you can make it match your schedule.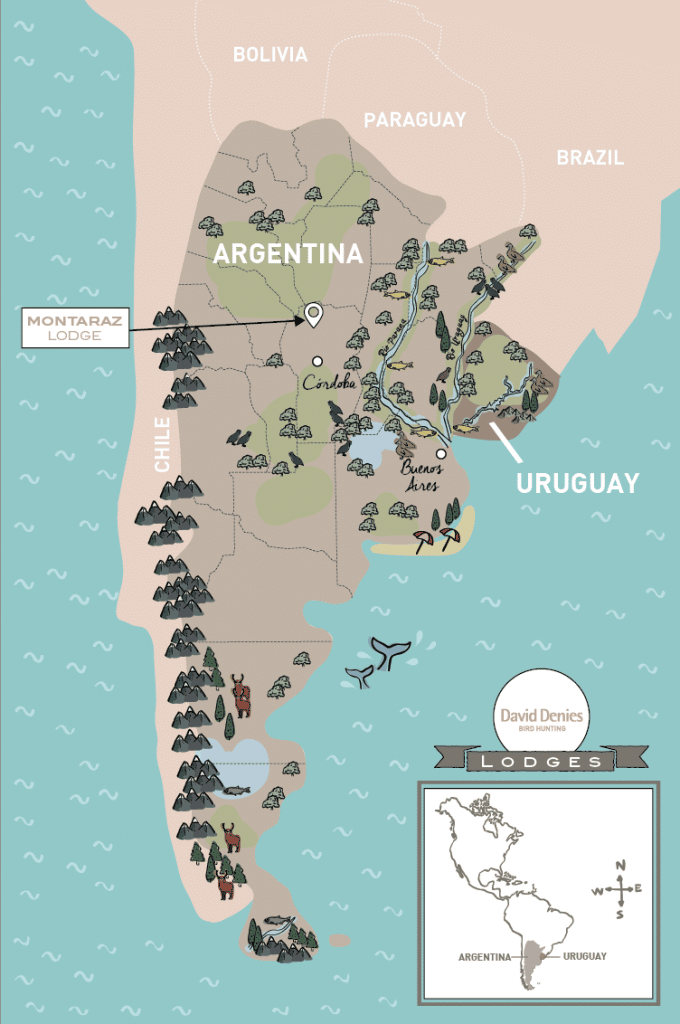 THE LODGE
This historic lodge facility was originally constructed as a Jesuit mission in 1669, and it has been occupied continuously for over three hundred years. The lodge buildings are an architectural treasure, and within the living accommodations have been completely refurbished with discerning shooting guests in mind. The lodge can accommodate up to ten hunters in a total of eight single rooms, and one double bedroom— each with private bathroom. There are a number of amenities at Montaraz including a swimming pool, tennis court, riding stables and horses, and an on-call masseuse.




FOOD AND DRINK
At Montaraz, we take your dining experiences seriously, and we strive to dining to our hunting guests. Our kitchens come to life through the use of fresh and regionally representative meats and produce. By combining hidden stories and package traditions on each plate. A top-notch team of experienced national and international chefs, trained in both classic and avant-garde culinary techniques, execute our food. With an artisan's touch, chefs prepare every dish by scratch to be served at a minute's notice. Days start with a hearty breakfast composed of a variety of homemade breads, jam, meadow honey, fresh fruit, natural yoghurts, cereals and eggs prepared any one of six ways, including porridge, French toast and the daily special. Lunch is served al' fresco in the shooting area each day featuring a variety of choice meats and salads, grilled dove breasts, short ribs, plus lamb, grilled chicken, etc. Bread comes from our own bakery. Beverages and delicious deserts are included. chance for our house chefs to really shine. Again, options are a la carte, so if you are enjoying our famous beef and wish to enjoy a steak each evening, we'll happily grill one to order, but if you'd dare be a bit more adventurous and wish to try Risotto with calamari ink, or grilled trout with tomato puree, then we'd encourage you to sample our specialty dishes. our local delight, dulce de leche, plus fruit, homemade ice creams, and pies.




WINES
Our lunch and dinner menus are paired with some of Argentina's—and the world's—best wines from Bodega Catena Zapata. We feel that the food we present and the wines we serve should mirror the sporting opportunities we offer—and be the very best available. Boasting accolades from the wine community at large, a Bodega Catena Zapata wine recently received a "number four in the world" icon ranking from Wine Advocate. These are truly great wines that hold a special place in our culture and we are proud to serve them to you.




Alcoholic Beverages / Tobacco Importation
Two bottles of liquor and two cartons of cigarettes can be taken into Argentina duty-free. Our suggestion is that you purchase these at the airport before departure. If there is any special brand of liquor that you like we recommend that you purchase it at the duty free.
RATES
$650 – $830 per person per night – based on single occupancy.
Rooms: 9
Capacity: 10 hunters
Rates at Montaraz Lodge fluctuate between $650 and $830 per shooter, per night-These rates are flexible based upon month of the season, number of shooters in the group, and lodge availability— please CONTACT US for an accurate quote.
SPECIAL PRICE FOR PRIVATE TEAMS (6 hunters)
INCLUDED: Lodging; Meals, all wines beer, and local spirits; Professional guide service and field assistants; horseback riding; Payment to land owners for hunting rights.
NOT INCLUDED: Gratuities for guides and house staff; Airfares; Gun entry permits; Gun Rental; Shells; Masseuse; Laundry service; Phone calls and Internet; Tours, shopping trips, etc.; Any items of a strictly personal nature; Transfer to and from the lodge; Baggage overweight charges; Personal and baggage insurance; Cost of itinerary modifications requested by passenger; Buenos Aires transfers and hotels.
Download Rates & Program Info
SEASON
PIGEON
Two types of wild pigeons can be found in Argentina and Uruguay, the Spot-Winged and the Picazuro. These are not the domestic pigeons found in rural barns and on city statues, but fly and decoy more akin to a wild duck. Wild pigeons are tough, and their large wing surface areas make them fast and agile fliers.
Picazuro Pigeon



Spot-Winged Pigeon



TESTIMONIALS
Pigeons—What It's All About
There are few places in the world where wild pigeons exist is such abundance that they're considered a premier species for the hunters. Fortunately, Córdoba is one of these places. And Montaraz Lodge is in the center of it all, with 45 hunting fields—thousands of acres all told—located in an area annually inhabited by more than 5 million pigeons.
Pigeon season runs from May 1 until September 15
These birds are large and fast, which makes them a great target. But they're also smart and deceptive. That's why we predominantly hunt pigeons over decoys: plastic stationary decoys, pigeons carousels and spinning wing decoys.
The typical schedule sees us hunting mornings and afternoons, returning to the lodge for lunch and siesta in between hunts. For full-day outings, asado-style field lunches are the norm.
Because these are decoy hunts, you will hunt from grass or brush blinds. In the field you'll be assigned a field assistant, who provides you with shot shells and refreshments and directs you to your hunting stand. We can also organize hunts for passing birds, European style. This depends upon flight paths and time of year.
Hunting programs vary from season to season. Olive groves, corn and alfalfa fields, and feedlots can all come into play depending on where pigeons are concentrated.




Pigeon Tips
Someone wise once said you can hunt doves, but you hunt for pigeons. It's not to say you won't shoot a bunch of shells, you will. But when you're at Montaraz in Córdoba, it's best to approach pigeons as you would a waterfowl hunt. Take advantage of your blind to ensure birds are focused on decoys and not on you. ln the blind, stay low and out of view. Pigeons have great eyesight and can spot unusual movement hundreds of yards away. Shoot quickly and, hit or miss, reload and hide once again. Great pigeon shoots often happen over a short period of time, so getting down and ready will help make the most of the next opportunity.
GUNS
AVAILABLE FOR RENTAL
Many of our guests find that renting guns from the lodge they are visiting to be an easier solution than applying for consular permits and traveling with their own shotguns. It's easy to rent a gun from the lodge. We have a good selection of guns that are appropriate for the destination at each lodge. Just browse the gun rack until you find a gun that you like. Then, the lodge manager or your guide will note the specific number of the rental gun. That gun will be yours for the duration of your stay. However you are welcome to change guns along the way and try something different if you wish. You are only charged for one rental so you can switch guns if you wish. We want you to shoot a gun you are comfortable and effective with! You will settle up for the rental at the end of your stay, when you are charged for shells and other expenses.
Here is a listing of the guns we have at the lodge presently:
Over & Under
12 Gauge
BERETTA
BLACK WING
1
12 Gauge
BERETTA
ONIX
1
SemiAutomatic
20 Gauge
BENELLI
MONTEFELTRO
6
20 Gauge
Winchester
SX3
5
12 Gauge
BENELLI
SUPER SPORT
2