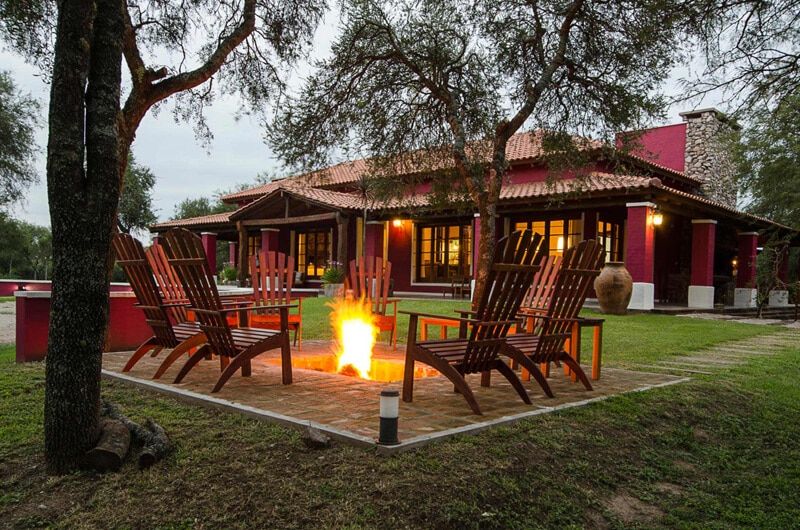 Built on the tradition of over 32 years of dove hunting experience from David Denies, Córdoba Lodge is the newest addition to our portfolio of bird hunting lodges.
Córdoba Lodge was created exclusively for private groups of up to 10 hunters— groups looking for the ultimate dove hunting adventure in a relaxed atmosphere that also offers an unbeatable value for the whole lodge.
Ideal for groups of friends, corporate trips, hunting school practices or family, Córdoba Lodge features comforable shared rooms, fine service and short drives to waves of doves and a wide variety of hunting scenarios.
WHY CHOOSE CÓRDOBA LODGE?
Branded by David Denies Bird Hunting, the pioneers of dove hunting in Argentina since 1984.
Just a tiny step down from luxurious La Dormida and Pica Zuro, Córdoba Lodge provides great value.
Ideal for a large group of hunters or one family, a total of six rooms comfortably accommodates a maximum of 10 guests.
Outdoor hot tub and fire pit, and a great cellar for wine tastings.
All inclusive bar and great Argentine menu; great field barbecues.
More than 250,000 acres of land means that you will shoot a challenging mix of steep hills, sunflower fields, creeks beds, and sorghum acreage, so you can enjoy variety and quality hunting year round.
Ideally located for shorter drives to the best hunting grounds.
Safari-style tented lunch in the field assures a full day of hunting and no time lost driving to and from the lodge
LODGE LOCATION
Coordinates: 31°07'41.5"S, 58°11'01.0"W
Córdoba Lodge is located in the province of Córdoba, in Central Argentina, 53 miles (86 km) north of the Córdoba City International Airport. The driving time is 1 hr by paved road. Once at the lodge, you are conveniently close to terrific dove fields, with drives ranging the 5 to 25 minutes depending on the time of the year. For more than 25 years, bird hunters from around the world have recognized Córdoba as the leading destination for high-volume dove hunting. Córdoba offers hunters easy access, with direct flights from Miami (USA), Santiago (Chile), Buenos Aires, Lima (Peru) and Panama City (Panama). Pleasant weather is also a bonus, with more than 320 days of sun per year.
GETTING THERE
Located midway between Santiago, Chile, and Buenos Aires, Córdoba Lodge can be reached from either west or east. There are daily direct flights from many U.S. cities to Santiago, with connecting flights to Córdoba City. You will be dove hunting at midday on the day of your arrival. Hunters may also fly into Buenos Aires (Ezeiza International Airport), transfer to the domestic airport, and take a 1-hr flight to Córdoba. There is a new non-stop flight from Miami to Córdoba, which departs on Saturdays and Sundays. It's great option if you can make it match your schedule.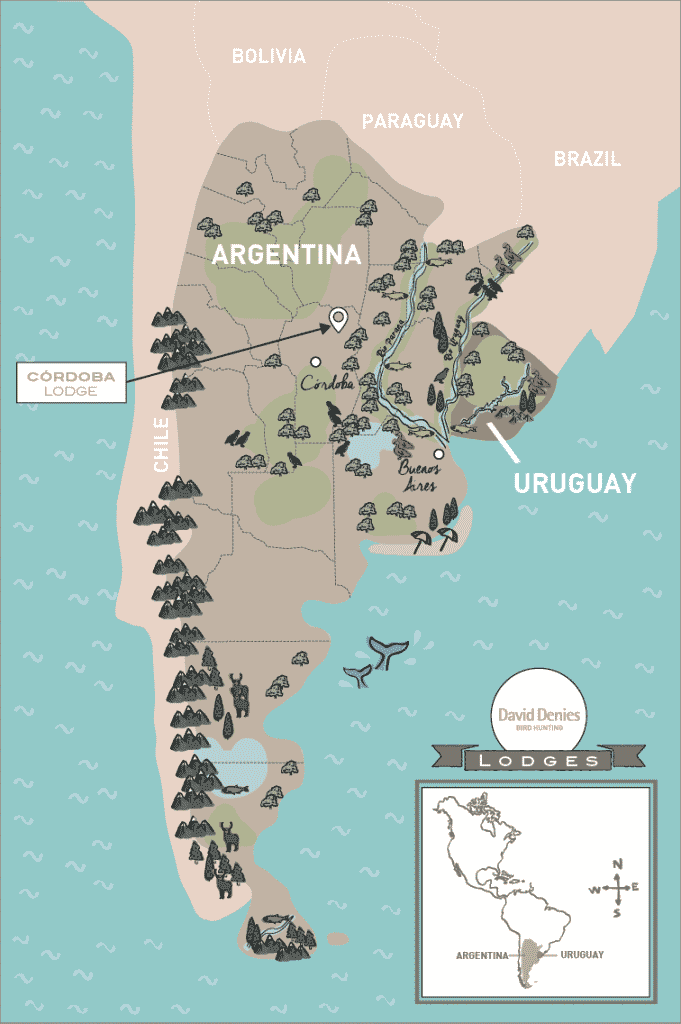 THE LODGE
Córdoba Lodge is an elegant yet modern property ideal for our hunting guests. Located on landscaped grounds, and within minutes of our best dove fields, it's composed of several separate buildings that unite on one compound, with each residence surrounded by an open porch or gallery. In the main house you will find the common areas, including a large living area with a fireplace and large windows that grant views of the surrounding landscape. Beneath the common areas there's a wine cellar and tasting room. There's also a bar upstairs, a welcoming dining room, and a wellness room for massages. A hot tub was recently added—perfect for a soak after a day in the field. Meals are prepared for our guests in the adjacent kitchen. Four large bedrooms are located in a quiet building near the main house. Each bedroom is furnished with 2 queensized beds, vaulted ceilings, air conditioning, hotel-quality amenities, and a private bathroom.




FOOD AND DRINK
The menu at Córdoba lodge is prepared by our in house chef, who is charged with cooking for our guests as if they were guests in our own homes. Ingredients are chosen by selecting the very best of products sourced locally, with particular emphasis on fresh fruits and vegetables of the season. Extra care is taken in choosing the very best meats for the traditional asados served in the field at midday.
Each day an option is prepared for dinner, and you will be served a delicious dish with bread baked fresh each afternoon, and a variety of salads. Following dinner, desserts follow, and they are designed to be a celebration of the meal that has come before it, with options like colonial flan and classic lemon pie. It goes without saying that our Argentine wines are held in high regard, and our lodge cellar reflects holds some of the very best of the wines of Mendoza.




Alcoholic Beverages / Tobacco Importation
Two bottles of liquor and two cartons of cigarettes can be taken into Argentina duty-free. Our suggestion is that you purchase these at the airport before departure. If there is any special brand of liquor that you like we recommend that you purchase it at the duty free.
RATES
$395 – $575 per person per night – based on shared occupancy.
Rooms: 6
Capacity: 10 hunters
Rates at Córdoba Lodge fluctuate between $395 and $575 per shooter, per night-These rates are flexible based upon time of year, number of hunters in the group, and lodge availability— please CONTACT US for an accurate quote.
SPECIAL PRICE FOR PRIVATE TEAMS (6 guests)
INCLUDED: Lodging; Meals, house wine, beer, and local spirits; Transfer to and from the lodge; Professional guide service and field assistants; Payment to land owners for hunting rights.
NOT INCLUDED: Gratuities for guides and house staff; Airfares; Gun entry permits; Gun Rental and Shells (ask for pre-paid shells discounts).
*Prices are in USD
Download Rates & Program Info
SEASON
EARED DOVE
This bird was named Eared Dove for a dark patch of feather on the side of the bird's upper cheek that looks like an ear. These doves are the size of the popular Mourning Dove in North America, and in the hand, it is difficult to tell the two species apart. In the Córdoba region, farming practices and vast roost areas allow these birds to thrive at epic population levels. Various recent estimates put the Eared dove populations in excess of fifty million birds.




TESTIMONIALS
Dove Hunting in Córdoba
Forget what you've heard about dove hunting in Mexico, or what you used to hear about the doves in Colombia. Simply put, the dove hunting available in our part of Córdoba is, on its worst day, amazing, and more typically is beyond comparison with any other dove hunting resource around the globe.
Córdoba is considered the Dove Hunting Capital of the World for good reason. More than 50 million non-migratory doves inhabit the area around our lodge. Furthermore, these 50 million birds reproduce at an average rate of five times a year. So that is the dove resource we have available. To utilize this staggering resource, the lodge has 55 hunting locations located within a short drive through the region's rolling farmland. Some locations are field edges, some are dry creek bottoms, and others are the edges of wood lots or hill country with high brush. Each offers a different hunting challenge, and we have the ability to dial up or dial down the difficulty of the hunting within each location.




The daily hunting program generally starts at 8 a.m., with a hearty breakfast and a short drive to the shoot.
In the field you will be assigned a pick-up boy, who provides you with shells and refreshments and directs you to your hunting stand. Once you are placed and ready, hunting begins, and either one or two full-time bird boys will assist you. Additionally, our head guide will also be available to assist or provide tips on your hunting if desired.
Depending on the time of the year, you will shoot till noon, when you'll be treated to an incredible Asado-style lunch, served in the shade of a comfortable safari tent, featuring Argentina's wonderful beef and superb wines. Many shooters like to enjoy a nap after lunch, with afternoon hunting sessions beginning at around 2 or 2:30, and continuing until late in the day. There is no required quitting time, good sense and tired shooters dictate when the day is through. After hunting there is time for showers and cocktails at the lodge prior to dinner.
Each day the lodge donates hundreds of doves to a local food kitchen that serves the area's needy children. (Read more about this: WHAT HAPPENS TO THE BIRDS?)
Perfect Time #1: July 15 through Feb. 15 — "The Glorious Hills"
Weather: This season includes the end of winter, the entire spring, and part of our summer—almost half our year. For the end of winter and most of spring we experience mild temps and blue skies carrying easterly winds. During our mid-winter and early spring we can find challenging birds due to a combination of deep valleys and wind, especially in August. The tail end of this block is our summer, when we can experience tropical showers late in the day with a predominantly northerly wind. Temperatures: 65-95F.
Doves: We can present every bird in the book during this broad time of year, from sky-scraping high doves to low and slow birds perfect for beginners—and all flying at every possible angle. We're situated in the hills daily at this time of year, changing hunting scenarios every hunt, and we can use our location to our advantage to produce just about any hunt a client or a group might prefer. We can also "duplicate" every game bird shot in the book—from high pheasants, crossing ducks, or incoming grouse. If hunters want low birds we hunt the ridges; and if they want high doves we go deep into the valleys. We also hunt an array of local farms, which provide a nice variation from day to day.
Also, hunting with double guns can be offered, our professional field assistants can stuff or double gun every day. Driving distances from Pica Zuro range 15 to 35 minutes. La Dormida is about 25 minutes. Córdoba Lodge is about 15 to 25 minutes.
Perfect Time #2: Feb. 15 to March 15 — "In Transition"
Weather: Sunny and dry, with occasional light showers.
Doves: A combination of the hills and flat hunting, with the best hunts occurring early in the morning and after 3 p.m. until sunset at 8 pm. Much like our June/July hunting, but with the benefit of longer days and warmer temperatures. This season is short because the doves will stop hatching due to lack of food and start holding in temporary roosts in the flats close to the production areas. As David Denies is the only outfitter holding 250.000+ acres of land, we can still guarantee incredible customized hunting while other outfitters close their doors during this time. This is the opposite movement from our June/July hunt in that we are now moving from the hills back to the flats; two great hunts per day, often with a long lunch and time for a nap at midday. Beautiful, warm weather. Driving distance from Pica Zuro varies from 10 to 45 minutes. La Dormida averages 25 to 35 minutes. Córdoba Lodge from 20 to 30 minutes.
Perfect Time #3: March 15 to June 15 — "The Flatlands"
Weather: This is our autumn, and while we can have some rain in March, April, and early May it's rarely more than a day or two of rain per month. Then our dry season begins.
Doves: During "The Flatlands" period we find a high concentration of low-flying birds feeding or in temporary roosts. We can see high birds depending on the wind and how far we're located from the feeding or roosting areas. The main reason the birds fly this way at this time of year is because they're following combines that are harvesting sorghum, soy bean, and corn. During this time of year we also shoot feedlots and water holes where the birds gather to eat and drink. Driving distances from Pica Zuro are from 25 minutes up to 1 hour. From La Dormida, about 15 to 45 minutes. From Córdoba Lodge, about 20 to 30 minutes.
Perfect Time #4: June 15 to July 15 — "The Transition, Head for the Hills"
Weather: Cold in the morning, comfortable in the evening; blue skies every day with a predominant south wind.
Doves: A combination of low and high-flying birds depending on where we find the better hunting conditions (flatlands or hills) or both. One day we can be hunting in the flats; the following day in the hills. This time of year is what we call our winter transition, and it only lasts a month. We continue to hunt the flats and we start hunting the hills as well, depending on the flight pattern of the doves from day to day. Driving distances from Pica Zuro will be 15 to 45 minutes, unless we are lucky enough to be able to use the field right next to Pica Zuro which is only 5 minutes away. It can be "red hot" at times and makes for a nice bonus. Driving distance from La Dormida is 20 minutes to 45 minutes. Córdoba Lodge, 20 to 35 minutes.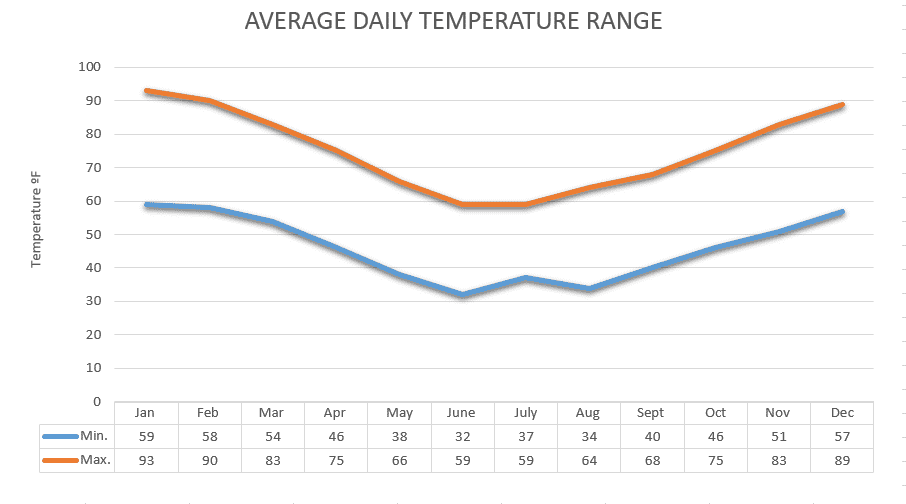 Hope to see you in the dove field soon!
GUNS
AVAILABLE FOR RENTAL
Many of our guests find that renting guns from the lodge they are visiting to be an easier solution than applying for consular permits and traveling with their own shotguns. It's easy to rent a gun from the lodge. We have a good selection of guns that are appropriate for the destination at each lodge. Just browse the gun rack until you find a gun that you like. Then, the lodge manager or your guide will note the specific number of the rental gun. That gun will be yours for the duration of your stay. However you are welcome to change guns along the way and try something different if you wish. You are only charged for one rental so you can switch guns if you wish. We want you to shoot a gun you are comfortable and effective with! You will settle up for the rental at the end of your stay, when you are charged for shells and other expenses.
Here is a listing of the guns we have at the lodge presently:
SemiAutomatic
20 Gauge
BENELLI
MONTEFELTRO
9