Pica Zuro Lodge
[rev_slider pica]
[tabs] [tab title="Welcome"]
Pica Zuro Lodge – Dove Shooting – Cordoba, Argentina
Flawless style and comfort plus awe-inspiring shooting. Live like royalty in the dove shooter's Kingdom.
Cordoba's first dove shooting lodge and the standard of elegance by which other lodges are measured.
A charming 19th century country estate, elegantly restored into a modern launch pad for dove shooters.
Ideally located to reach the doves within minutes.
250,000 acres of fields loaded with wild doves, provide the most diverse shooting scenarios.
Never-ending flocks all year round.
Our skilled chefs prepare meals fit for a king.
Our staff sees to every detail, so your focus remains down the rib of your gun.
[/tab] [tab title="Location"]
Location
Pica Zuro Lodge is located in the province of Cordoba, in Central Argentina, 60 miles (100 km) North of the Cordoba City International Airport. The driving time from the airport to the lodge is about an hour and fifteen minutes.
To get to Pica Zuro Lodge there are daily direct flights from many U.S. cities to Santiago, Chile, with connecting flights to Cordoba City. The timing of most flight schedules will allow you to be dove shooting by midday upon arrival.
Hunters may also fly into Buenos Aires (Ezeiza International Airport), transfer to the domestic airport, and take a 1 hour flight to Cordoba.
[flexiblemap center="-30.542082,-64.229808″ title="Pica Zuro Lodge" zoom="9″ width="425″ height="350″ directions="false"]
[/tab] [tab title="The Shooting"]
The Shooting
Cordoba is considered the Dove Shooting Capital of the World for good reason. The 100 square mile circumference around the lodge is annually inhabited by over 50 million doves, and the birds reproduce over five times a year. The lodge has 55 shooting fields all located within a short drive through the region's rolling farmland.
Each day the lodge donates hundreds of doves to a local food kitchen that serves the area's needy children.
The program generally starts at 8:00 AM with a hearty breakfast and short drive to the shoot.
In the field you will be assigned a pick-up boy, who will provide you with shells and refreshments and direct you to your shooting stand.
You will be visited frequently by our head guide who will be available to assist you with any need, even giving you some tips on your shooting if required.
Depending on the time of the year, you will shoot till noon when you will be treated to an incredible Asado-style lunch, shaded by a comfortable safari tent, tasting some of Argentina's wonderful beef and superb wines.
Afternoon sessions begin at around 2 or 2:30, and continues until almost dark. There is no quitting time, good sense and tired shooters dictate when the day is through.
Return to the lodge for cocktails and early dinner.
Guns
28 Gauge
Beretta over and unders. Models: Silver Pigeons with 28 inch barrel and Onyx with 26 inch barrel.
Browning over and unders. Models: Classic 525.
20 Gauge
Benelli semi automatics. Models: Inertia Driven models Montefeltro and M1, unplugged.
Beretta over & unders. Models: Silver pigeon 28 inch barrel; single trigger and non automatic safety; 686 and 687 26 inch barrel.
Browning over and unders. Models: Classic 525.
12 Gauge
Benelli Vinci semi automatics Models: Montefeltro, M2 and Supersport (30 inch barrels).
Beretta over and unders. Model: silver pigeon 28 inch barrel, single trigger.
[/tab] [tab title="Species"]
Species
Eared Dove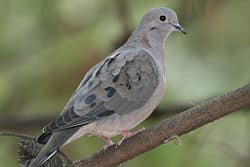 This bird was named Eared Dove for a dark patch of feather on the side of the bird's upper cheek that looks like an ear. These doves are the size of the North America's popular mourning dove, and in the hand, it's difficult to tell the two species apart. In the Cordoba region, farming practices and vast roost areas allow these birds to thrive at epic population levels. Various recent estimates put the Eared dove populations in excess of fifty million birds.
[/tab][tab title="Accommodations"]
Accommodation
Photgraphs of Pica Zuro have never done it justice. Some great old buildings are like that. This one is. The rooms are bigger, the ceilings higher, and the chairs are softer than they seem in photos. It is peaceful and tidy in the rooms, quiet on the outside verandas. After a shooting day you may want some quiet, or a place to laugh with friends while white-jacketed waiters bring drinks and snacks. A photo doesn't capture the wisper of the fan blades overhead, or the tinkling of ice in glasses. You have to visit to enjoy it. And photos don't come close to explaining the dove shooting either. Even video doesn't do that. Since 1983, you still have to see it to believe it…
When you arrive at the swinging gate outside Pica Zuro, you'll proceed up the winding drive and sense at once that the lodge has had time to settle and amass ambiance. Things look comfortable here, geese swim in the pond, and fan blinds swirl on the porches. There's a feeling of old world elegance that starts outdoors and extends throughout each room of the property. It's the ideal background for dove shooters and their guests to enjoy, unwind, and revel in a perfect shooting holiday.
Cuisine & Wines
Our guests say that it is difficult for them to describe our shooting to others–because it's hard to put the shooting into words, and a still photo doesn't do it justice. There are just so many doves, every minute of every day. We feel the same way about the dining we provide for our shooting clients–just telling you about it doesn't scratch the surface. You have to come and shoot with us, and smell the fresh, hot, empanadas steaming in a wicker basket, smell the baby goat or lamb grilling over orange coals, taste the earth in carrots grown in the lodge garden, or the flavor of plums and cinnamon in one of our fine Malbec wines. At Pica Zuro, we take your dining experience seriously, and we strive to make every meals as wonderful as every trip to the field.
The big difference at Pica Zuro is that you have choices thanks to fine à la carte dining. For breakfast enjoy eggs prepared any one of myriad ways. Or perhaps you'd like waffles, porridge, or French toast? Coming right up!
Our field lunches are legendary, and are served al' fresco in the shooting area each day. Lunch features a variety of meats and salads, grilled dove breasts, a fillet cut of savory beef, several varieties of our famous sausages, short ribs… plus lamb, grilled chicken or other meats. To the meats we add several salads, bread we make in our own kitchen, plus beverages, and a nice desert. Not surprisingly, we also bring hammocks to lunch in case you need a little siesta.
Evening meals are a celebration of fine dining, yet in a casual setting, and it's a chance for our in-house chefs to really shine. Again, options are à la carte, so if you are enjoying our famous beef and wish to enjoy a steak each evening, we'll happily grill one to order, but if you'd dare be a bit more adventurous and wish to try Risotto with calamari ink, or grilled trout with tomato puree, then we'd encourage you to sample our specialty dishes. Finally, there are the desserts. Each day brings a new creation, from flan to our local delight, dulce de leche… plus fruits, homemade ice creams and pies.
Wines
A special note about our wines. Great wines are part of the Argentine culture, and part of our daily lives. Here in Cordoba, you can buy wines in a convenience store or a gas station. The problem is, many outfitters buy them there, on a shelf next to the wiper blades. That just doesn't fit. We have partnered with several unique and very special vineyards, and they provide us with wines that perfectly pair with the foods we serve. Our cellars are extensive, and we are happy to introduce you to our Malbec wines, which are known throughout the world as Argentine treasures. Other spirits are also available, but of course we ask you to enjoy in moderation.
[/tab][tab title="Testimonial"]
Testimonials
"Spectacular sportsmans paradise. Service exceptional. I will never forget this excellent time"
Monty M.
"Outstanding. Exceeded my expectations. Maria, William, Chavez and Armando were most gracious, helpful and simply enjoyable to be around. I highly recommend Pica Zuro shooting trip. One of the best ever!"
Mike McG
"Excellent! Friendliness and effort of all the staff was beyond expectations. I would love to get back in the future."
Francis S.
"The best, absoultely top notch. I invited friends & family. It exceeded everything."
Scott V.
"Exceptional location, experience,staff, food, and lodging. I especially appreciated the hospitality of staff and willingness to accomodate guest requests! Thank you!"
Caroline C.
"I have never experienced a premier hunting lodge. This was the tops."
Reid McM.
"Everything was awesome and the hunts were great, loved it completely!"
William M.
"The quantity of birds were so overwhelming and it was nothing like I have ever seen in my life. The guides, field assistants, and house staff were very friendly. Not to mention how great the food was! I also loved the hot tub, Pool room, lodge, and the wonderful scenery around the lodge and hunting grounds."
Steven R
"Knowledgeable staff and friendly attitudes makes all the difference when I travel abroad for work or pleasure. You should be very thankful to have such a committed and caring staff. I will return and not just because of the excellent hunting. Muchas gracias!"
Steve and Steven R.
"The shooting was better than I could have imagined. Everyone was super nice."
Robert R.
"I'd like to thank all David Denies organization for the most wonderful opportunity to hunt at Pica Zuro last week. The tripmore than exceeded every hope and expectation I had. From the service, to the meals, to the shooting, everything was perfect. Never could I imagine shooting over 4200 rounds in 3.5 days! The lodge manager, Maria Capizzi, was an absolutely wonderful host. My field assistant, Lucas, was a trooper, loading all 4200+ shells for me, even on a 101+ degree day. All the field assistants and lodge staff treated us like royalty. I would have to say this trip ranked in the top three vacations I've ever been on (the other two being my honeymoon and 10 year anniversary)!
You can most certainly use me as a reference for David Denies as I can't imagine anyone having less than a spectacular time.
Most sincerely,"
Andrew McGlamery, USA
"5 star shooting experience with attention to detail. You won't do better. An unbelievable dove hunt. I will be back with my sons again."
Thomas E. Kersten., Minnesota – USA.
"Excellent experience. First class trip."
Devek F., Wichita Falls, Texas – USA.
"I anticipated the trip of a life time and I experienced just that. The overall experience was incredible."
Joseph Franz., Houston, Texas – USA.
"entire Trip was fabulous. Lodge facilities were excellent, staff most helpful + professional operating with genuine helpfulness. Shooting was outrageous given the quantity of birds plus was most enjoyable, especially for my sons. I would (and have) recommend this trip/lodge to friends for a magnificent hunting opportunity."
James C., London, UK.
"Trip of a life! Wouldn't think of another group to trust all the details with. Even the smallest details were taken care of – which is important."
Jeffrey E.Dallas, Texas – USA.
"It seems rare in today's crazy / hyper-connected real-time world to find destinations where you can simply 'relax, and take it all in' – at least as much as possible when there are SO MANY doves that need to be shot—and so much wonder food/wine that 'needs' to be consumed! PICA ZURO Lodge, and the fabulous staff and field guides provided an experience that absolutely exceeded my expectations in every respect—from start to finish… and I mean that 100%.
Even when our scheduled stay at Pica Zuro was coming to an end, once Lucas Dominguez learned our return flight from COR->EP was cancelled, he made a special accommodation for my buddy and I to make sure we were not stuck sitting in the COR airport for 6 hours until our rescheduled flight was departing. We can't say enough about how much we appreciate the field staff Lucas manages for David Denies Wing shooting.
We are already looking at the calendar to see when we may be able to come back—I only wish Cordoba was closer!
Thanks again,"
Fred C., IL., USA.
[/tab][tab title="Photos"]
The Shooting
The Lodge
[/tab][tab title="Videos"]
Videos
High Volume Dove Shooting
Pica Zuro Lodge – World Class Accommodations
[/tab][tab title="Pre Trip"]
Pica Zuro – Pre Trip Requirements
Please take a moment to download and read through the following information well in advance of your departure. It will help answer most questions concerning your stay.
If you are a group leader, please make sure to share this information with the rest of your group. It is vital that everyone in your group is fully prepared, understands the trip cancellation policy on refunds, and have the opportunity to purchase travel protection insurance, (especially anyone with a health issue).
Pre-Trip Questionnaire | Download our Program info
[/tab][/tabs]