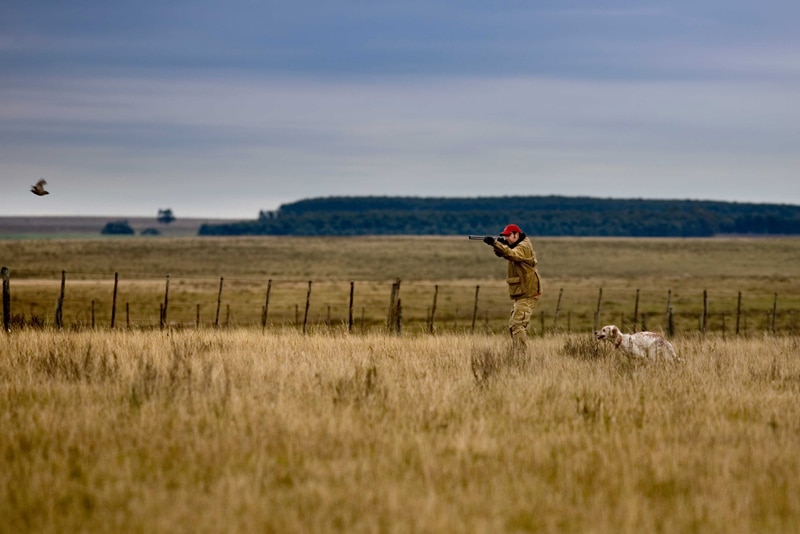 Estancia San Juan is perched majestically atop a knoll, with striking views of the Uruguayan countryside. Whether by design or chance, San Juan is the epicenter of a hunting resource desired by every sportsman that has cradled a shotgun—a perfect mixed-bag location, where duck marshes and dove fields are linked to smart accommodations by short drives on good roads. Teeming with perdiz, ducks, and doves, the region offers the ultimate Uruguayan mixed-bag, where you'll perfect the art of hunting several species throughout the day. Add to this variety genteel country living, warm personalized service, and delightful daily menus, and you can appreciate the joy of San Juan. Your hosts are Bernardo and Mercedes Barran, who've greeted bird hunters with enthusiasm and grace for two decades.
WHY CHOOSE SAN JUAN LODGE?
Our partner—and your host—the Barran family has more than 25 years of experience bird hunting in Uruguay. This is a true family operated lodge in every way!
Easy logistics. Fly to Montevideo or Buenos Aires. From those gateways, there are plenty of options to and from lodge, including short drives and private charters.
A true mixed bag in friendly Uruguay. Alternate between ducks and perdiz each morning and experience awesome dove hunting minutes away from the lodge every afternoon.
Outstanding hunting logistics for all 3 species. From 5- to 45-minute drives.
The best perdiz hunting in South America, and pointing dogs without peer, trained by expert dog trainer and co-owner Bernardo Barrán. More than 18 well trained dogs are available for our hunts and more than 20 years experience training dogs.
Our duck hunts are easy, even for those who hate the waders and mud usually associated with waterfowl. Just field boots are all that are needed on the edges of small ponds. And, our duck hunts are very productive with generous limits each morning.
Five en suite bedrooms, exquisite "game" menu and great wines.
The biggest dove roost in all of Uruguay just minutes away from the main lodge.
Lodge is ideal for small parties or families up to 10 guests.
LOCATION
Coordinates 32°32'38.0"S, 57°50'36.0"W
Estancia San Juan is located in the northwest region of Uruguay in the state of Paysandú near the river town of Paysandú. The lodge is located approximately 336 kilometers or 208 miles away from Montevideo, the capital and the major metropolitan center of this small country.
Guests of Estancia San Juan have multiple means of arrival/departure from the lodge based on their point of origin or final destination. Most commonly, shooters traveling on international flights to Uruguay and Montevideo International Airport will be met by a San Juan Lodge representative who will assist with gun clearance, if necessary, and who will transport the group to San Juan Lodge. The drive is approximately 3 hours through scenic rural Uruguay via paved highway.
OTHER TRANSFER OPTIONS WHICH MAY BE CONSIDERED ARE:
Private Charter from Montevideo: Guests arriving into Montevideo may choose to expedite their travels by chartering to the Paysandú airport (40 minutes flight) located approximately 20 minutes from the lodge. Private Charters from Buenos Aires: Charter options are also available directly to Uruguay from Buenos Aires for those guests arriving from an Argentine lodge, who have been enjoying the city or who have arrived into Buenos Aires internationally.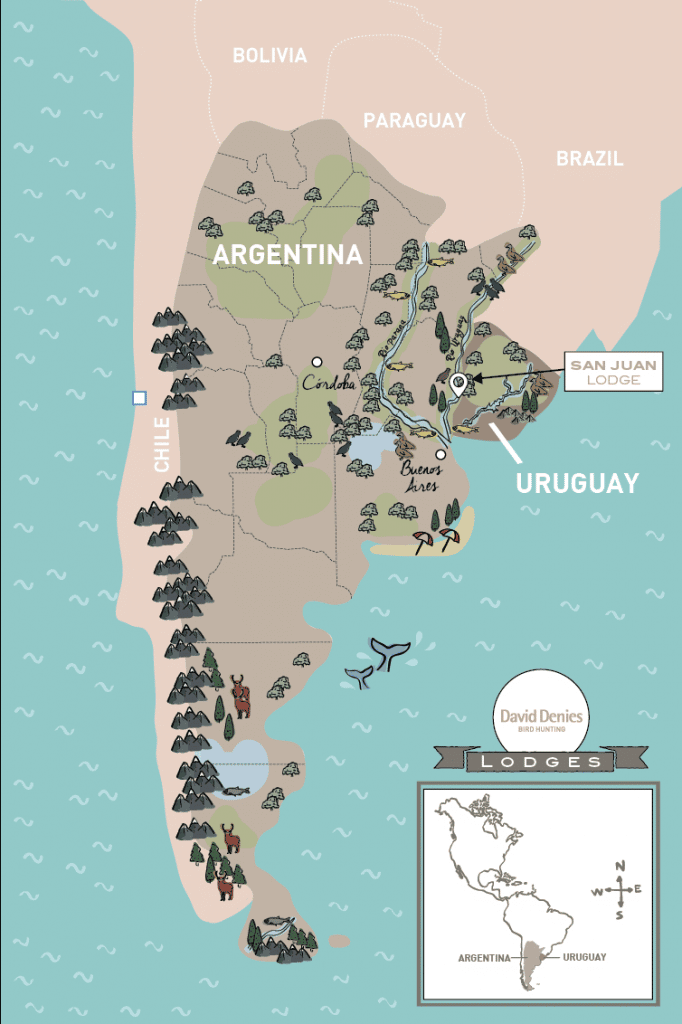 THE LODGE
Estancia San Juan is an elegant family home. It has 5 comfortable bedrooms each with private bathroom & a fireplace. The lodge will host up to ten guests. Single rooms might be available under request. If there is one available we'll be happy to accommodate you at no extra charge. With plenty of space to spread out, this estancia offers a comfortable living room with its inviting fireplace as a center piece, a dining room boasting exquisite meals, fine wines and a majestic view. On pleasant evenings or before the next hunt the Estancia offers an open air galleria so guests may enjoy the fresh air and Uruguayan countryside at any time.




FOOD AND DRINK
Our kitchens come to life through the use of fresh and regionally representative meats and produce. By combining these elements, we create delicious flavors and varied textures that harbor hidden stories and package traditions on each plate. A top-notch team of experienced national and international chefs, trained in both classic and avant-garde culinary techniques, execute our food. With an artisan's touch, chefs prepare every dish by scratch to be served at a minute's notice. Days start with a hearty breakfast that includes a variety of homemade breads, jam, meadow honey, fresh fruit, natural yogurts, and cereals. We also offer eggs prepared any one of six ways, porridge, French toast, or the daily special. Before lunch, delicious appetizers are served accompanied by your favorite drink. In the main lunch menu, grilled meats prevail. The evening meal is a celebration of fine dining in a casual setting, and it is a chance for our house chefs to really shine. Again, options are a la carte and each day brings a new creation.
At San Juan Lodge, the kitchen is particularly varied with preparations in different styles, from asados to the classical perdiz a la cordon blue and grilled duck breasts in moustard. Appetizers like hare loin carpaccio or mini dove brochette with bacon are a specialty. Home made bread cooked in an old clay oven accompanies every meal. Desserts go from mascarpone flan and sliced fruit plates to the more sophisticated samplings paired with homemade ice creams.




WINES
Our inspired lunch and dinner menus are paired with some of Argentina's— and the world's—best wines, from Bodega Catena Zapata. We celebrate our Argentine heritage with a wine partnership that brings truly world class wines to our lodges. We feel that the food we present and the wines we serve should mirror the sporting opportunities we offer—and be the very best available. Boasting many accolades from the wine community at large, a Bodega Catena Zapata wine recently received a "number four in the world" icon ranking from Wine Advocate. These are truly great wines that compete on the world stage. In addition to enjoying your sporting holiday and our excellent menus, we hope you will also take note of our wines. They hold a special place in our culture and we are proud to serve them to you.
RATES
$1150 – $1395 per person per night – based on shared occupancy & shared blind
Rooms: 5
Capacity: 10 hunters
Rates at San Juan Lodge fluctuate between $1150 and $1395 per shooter, per night. These rates are flexible based upon month of the season, number of hunters in the group, and lodge availability—please CONTACT US for an accurate quote.
SPECIAL PRICE FOR PRIVATE TEAMS (6-8 hunters)
INCLUDED: Lodging, meals, all wines, beer and local spirits; Professional guide service and field assistants; Payment to land owners for hunting rights; Horseback riding.
NOT INCLUDED: Transfers to and from the airport; Hunting licenses; Gratuities for guides and house staff; Airfares; Gun entry permits; Gun Rental; Shells; Masseuse; Laundry service; Phone calls; Tours, shopping trips, etc.; Any items of a strictly personal nature; Baggage overweight charges; Personal and baggage insurance; Cost of itinerary modifications requested by passenger; Montevideo transfers and hotels.
*Prices are in USD
Download Rates & Program Info
SEASON
Bird Species
Perdiz
Much has been written about this very sporting and tasty bird. One of the highest concentrations of perdiz in Uruguay is in the region of Paysandú, where San Juan is located. It offers acres and acres of short grass pasture, which is the perfect habitat for perdiz. These great birds are hunted much as other upland species, with guide and hunters walking abreast, following a good dog or two. The cover is short and the land is flat to gently rolling. Once a dog has established point, the hunters move in to flush the bird, which is most often found as a single or sometimes a pair. After the shot, and hopefully a retrieve, the group carries on for more.
Doves
The eared dove is the most prolific dove in South America, and it's also become, over the last several decades, one of the most important sporting birds for well-traveled bird hunters. Fortunately, the San Juan property envelopes on of the biggest dove roost in Uruguay, which is just 5 minutes away from the main lodge. Should that roost not be producing for some reason, there are two other exclusive roosts just 30 minutes away. We're confident in saying that we have some of the best high-volume dove shooting the country has to offer.
Ducks
The final jewel in the San Juan crown, the duck hunting in the region is prolific due to the proximity of the Uruguay River, which is the main migratory corridor ducks use to migrate north to south (and south to north). Along the way they spread out on the lagoons and ponds along the banks of the river. Water holes and lagoons are normally small but reliable (year-round water). It is here where we decoy ducks in the traditional manner. Dry blinds are constructed near the pond, with decoys out front. Hunters will normally encounter five to six duck species; Brazilian teal are most common, with Chiloe widgeon, rosy billed pochards, red shovelers, and yellow billed pintail rounding out the list. Seasonally, you may see an even greater variety. Because ponds are small, you won't need waders—leather or short rubber boots will suffice.
Pigeons
In addition to the species listed above, Uruguay is also host to several species of wild pigeons. Sometimes we have them in great numbers, flying with the doves, or their flight line may overlap that of the ducks. Sometimes they're found flying alone, in which case we seek to decoy them on dry land. Know that if we have pigeons in the area, they are on our agenda.
TESTIMONIALS
The Hunting
Like a great menu, hunting and shooting at San Juan Lodge offers a variety of game that makes Uruguay a unique destination not only in South America, but anywhere in the world. It's a rare treat for the bird hunter to enjoy the pursuits of an upland field, a fine duck marsh, or a cracking dove hunt, presented as a mixed-bag in the same day. Rarer still, when any one of the hunts could stand alone as an outstanding hunt in its own right.
Each morning at San Juan, you'll hunt wild perdiz in short grass pastures over English pointers and English setters, or ducks by decoying them in lagoons and ponds nearby. Each afternoon will find you dove hunting in grain fields or near sprawling dove roosts. Fine meals separate the day's sporting pursuits, and the drive times between marshes, fields or roost are kept short, which adds to the overall enjoyment.




Each morning hunters will begin before dawn when hunting for ducks, somewhat later when the quarry is perdiz. To achieve maximum success and to allow time for each hunt to be of good quality, we alternate a morning for ducks, followed by the next morning for perdiz—with each afternoon featuring doves. Two hunts per day seems to work best for most, although there are times when we're able to shoot a flight out of a dove roost for about an hour prior to a perdiz hunt. Meals are taken at the lodge between shoots, with breakfast and dinner served in the lodge, and lunch served outside as a typical "asado" or barbecue—either in the field or at the lodge proper. Dining considerations are adjusted according to the day's sport in order to maximize your field time.
Fortunately we don't have to go far for any of it; many drives to hunt locations are 5 to 15 minutes long. For some perdiz locations and duck hunts drives will be up to 40 minutes, but no more. Of course on each hunt your host and guide, as well as bird boys, will be with you to oversee and coordinate your shooting, plus attend to other necessities such as shotgun shells, refreshments and anything else you may need.
GUNS
AVAILABLE FOR RENTAL
Many of our guests find that renting guns from the lodge they are visiting to be an easier solution than applying for consular permits and traveling with their own shotguns. It's easy to rent a gun from the lodge. We have a good selection of guns that are appropriate for the destination at each lodge. Just browse the gun rack until you find a gun that you like. Then, the lodge manager or your guide will note the specific number of the rental gun. That gun will be yours for the duration of your stay. However you are welcome to change guns along the way and try something different if you wish. You are only charged for one rental so you can switch guns if you wish. We want you to shoot a gun you are comfortable and effective with! You will settle up for the rental at the end of your stay, when you are charged for shells and other expenses.
Here is a listing of the guns we have at the lodge presently:
Over & Under
28 Gauge
Beretta
Silver Pigeon
1
28 Gauge
Browning
Citory 525
3
20 Gauge
Browning
Citory 525
5
12 Gauge
Browning
Citory 525
3
12 Gauge
Superlambert
1
12 Gauge
Zabala
Hermanos
1
SemiAutomatic
20 Gauge
Beretta
Ulrika
7
20 Gauge
Benelli
Montefeltro
3
12 Gauge
Beretta
Urika
1
12 Gauge
Benelli
Premium
5