Located in the Province of Buenos Aires, just 2 hours from Buenos Aires, Los Crestones Lodge offers epic duck hunting plus perdiz and dove hunting in Buenos Aires..
For those who appreciate hunting behind well trained dogs, Los Crestones is special. Our guides have been breeding and training pedigree sporting dogs for years and they are a joy to see in the fields and in the marshes.
The grand estancia features galleries with superlative views, a spa and pool facilities. There are 10 elegantly appointed bedrooms—each with private bath, which accommodate a maximum of 8 hunters and 3 non-hunters.
At Los Crestones we believe we have created a unique opportunity– a wild mixed bag hunt, supported by a great staff and great working dogs, all within a short drive from the international airport. Los Crestones is also located on excellent rangeland, teeming with wild axis deer and elegant blackbuck.
WHY CHOOSE LOS CRESTONES LODGE?
Strategically located near Buenos Aires city, true mixed-bag bird hunting with the addition of big game hunting.
A 19th century estate refurbished with the comforts of a 5-Star hotel.
Single rooms, game and TV room and plenty of space to relax.
Conveniently located only 2 hours from the international airport.
Hunt duck in the morning with our professional guides and their retrievers, come back for lunch and after a short siesta spend your afternoon hunting perdiz over pointers, or doves at our nearby roost.
Axis Deer and Black Buck Hunting Gun or Archery —our guides excel at both.
Gourmet food and fine wines are treasured traditions at all David Denies lodges. Los Crestones is the favorite place for families, corporate trips, and royalty!
We provide guns and waders so pack light, shorter stays can be accommodated, and Los Crestones is ideal for combination trips to Cordoba, or any other hunting location.
LODGE LOCATION
Coordinates: 35°56'33.9"S, 57°46'03.9"W
Los Crestones Lodge is located in Castelli, province of Buenos Aires—on the banks of the Salado River. The traditional estancia is surrounded by 60 hectares of preserved natural woodlands, featuring four distinct landscapes:
The Countryside
This productive agricultural area is home to livestock grounds and vast fields home to wheat, corn, sunflower, sorghum, and soybean operations throughout the season.
The Park
Designed more than a century ago, and updated in 2000, this area brims with native and exotic species of both flora and fauna for you to explore. The arboretum is punctuated by fruit trees, a lagoon, and a botanical interpretive center.
The River
The mighty Saldado River zigzags through the pampa and is home to an array of birds, including herons, cigueñas, flamingos, and spoonbills. Here, you'll also encounter otters, capybara, and trout.
The Woodland
A woodland of 50 hectares, this area includes native trees emblematic of the region, such as talas, sombras de toro, ombúes, and saúcos y coronillos; birds including the Zorzales, Calandrias, and Picazurros; plus deer and the endangered butterfly, which we've adopted as our estancia symbol. During the summer, tours are available.
GETTING THERE
Reaching Los Crestones is easy. The lodge is a convenient two-hour drive from Buenos Aires, via route N2 (104 miles) followed by about 5 miles on good roads through stunning Argentine countryside. Helicopter access from the airport to the lodge can also be arranged as well as private plane charters to our closest landing strip (25 minute drive).
THE LODGE
Los Crestones Lodge lies on a sophisticated and luxurious compound situated on 60 hectares of preserved natural woodlands. Its architecture and history merge with the beauty of its unique natural surroundings on the banks of the Salado River. The lodge offers comfort and a unique atmosphere given by the combination of design and functionality. The grand estancia features wide galleries with superlative views, a gourmet restaurant, and pool facilities. There is also a full spa: massages, sauna, hydro massage, skillful Scot and fitness.  The lodge accommodates a maximum of 10 hunters and 3 non-hunters. There are 13 spacious and elegantly appointed bedrooms that combine wood and leather in its simple atmosphere. Rooms are fully equipped with design furniture, brandnew restrooms made of stone, ceramics, soft towels, cotton bed-linen and amenities including delicious fragances awaiting you to relax and enjoy your stay. All bedrooms have private bathroom.




FOOD AND DRINK
Our kitchens come to life through the use of fresh and regionally representative meats and produce. By combining these elements, we create delicious flavors and varied textures that harbor hidden stories and package traditions on each plate. A top-notch team of experienced national and international chefs, trained in both classic and avant-garde culinary techniques, execute our food. With an artisan's touch, chefs prepare every dish by scratch to be served at a minute's notice. Days start with a hearty breakfast composed of a variety of homemade breads, jam, meadow honey, fresh fruit, natural yoghurts, cereals and eggs prepared any one of six ways, including porridge, French toast and the daily special. The cuisine at Los Crestones lodge includes a wide variety of options in which prevail the delicious and high quality meat from wild animals, which feed from the Pampa's pastures. This game is presented in the midday barbecues, following grilled duck appetizers and duck burgers. The evening meal is a celebration of fine dining in a casual setting, and it is a chance for our house chefs to really shine. Again, options are a la carte, so if you are enjoying our famous beef and wish to enjoy a steak each evening, we'll happily grill one to order, but if you'd dare be a bit more adventurous and wish to try Risotto with calamari ink, or grilled trout with tomato puree, then we'd encourage you to sample our specialty dishes. Finally, there are the desserts. Each day brings a new creation, from flan to our local delight, dulce de leche, plus fruit, homemade ice creams, and pies.




WINES
In addition, our inspired lunch and dinner menus are paired with some of Argentina's—and the world's—best wines, from Bodega Catena Zapata. We celebrate our Argentine heritage with a wine partnership that brings truly world-class wines to our lodges. We feel that the food we present and the wines we serve should mirror the sporting opportunities we offer—and be the very best available. Our offerings from Bodega Catena Zapata blend perfectly into our harmonious niche in the sporting environment. Boasting many accolades from the wine community at large, a Bodega Catena Zapata wine recently received a "number four in the world" icon ranking from Wine Advocate. These are truly great wines that compete on the world stage and in addition to enjoying your sporting holiday and our excellent menus, we hope you will also take note of our wines. They hold a special place in our culture and we are proud to serve them to you.
Alcoholic Beverages / Tobacco Importation
Two bottles of liquor and two cartons of cigarettes can be taken into Argentina duty-free. Our suggestion is that you purchase these at the airport before departure. If there is any special brand of liquor that you like we recommend that you purchase it at the duty free.
RATES
$1150 – $1395 per person per night – based on single occupancy & shared blind
Rooms: 8
Capacity: 10 hunters
Rates at Los Crestones Lodge fluctuate between $1150 and $1395 per shooter, per night. These rates are flexible based upon month of the season, number of hunters in the group, and lodge availability—please CONTACT US for an accurate quote.
SPECIAL PRICE FOR PRIVATE TEAMS (6-8 hunters)
INCLUDED: Lodging, meals, all wines, beer and local spirits; Professional guide service and field assistants; Hunting license; Payment to land owners for hunting rights; Horseback riding.
NOT INCLUDED: Transfers to and from the airport; Gratuities for guides and house staff; Airfares; Gun entry permits; Gun Rental; Shells; Masseuse; Laundry service; Phone calls; Tours, shopping trips, etc.; Any items of a strictly personal nature; Baggage overweight charges; Personal and baggage insurance; Cost of itinerary modifications requested by passenger; Buenos Aires transfers and hotels.
*Prices are in USD
Download Rates & Program Info
SEASON
Species
There are 13 common duck species in this area of Argentina known as the central lowlands, or wet pampas. A fine book on all of the bird species, including the waterfowl is Tito Narosky's Birds of Argentina and Uruguay, which is available from many bookstores and online retailers. Most all whistle, except for the Pochard which purrs, or burrs like the Canvasback.
DUCK SPECIES YOU WILL ENCOUNTER
FULVOUS WHISTLING DUCK
SIRI COLORADO – Dendrocygna Bicolor  (38 cm)
The Fulvous Whistling Duck is one of the most widespread waterfowl species in the world. It breeds across tropical regions such as Central and South America and north to the Gulf Coast of the U.S. Although they are common, they are also considered wary. They are largely resident, apart from local movements, but vagrancy has occurred to southern Europe. Habitat includes freshwater lakes, paddy fields, and reservoirs with plentiful vegetation, where they feed nocturnally on seeds and other plant parts. Fulvous Whistling Ducks have long grey bills and long heads and legs. The head and underparts are buff, and wings are dark grey and black. Tail and wing patches are chestnut, and there is a white crescent on the upper tail, which is visible in flight. All plumages are similar, except for juveniles with less contrasted flank and tail coloration. This species is gregarious, and forms large flocks at favored sites. As the name implies, these are noisy birds with a clear whistling "kee-wee-ooo" call.

WHITE CHEEKED PINTAIL
PATO GARGANTILLA – Anas Bahamensis (35 cm)
The White Cheeked Pintail or Bahama Pintail (Anas bahamensis) is a dabbling duck of the Caribbean, South America, and the Galápagos
Islands. This is the court jester of South American ducks, with a bright, showy costume. Their overall color is cinnamon, but the body features a creamy white trim that extends from low on the throat to the base of a red bill, all edged in turquoise iridescence. Wings are blackish, with a green speculum that contrasts with the red bill. White Cheeked Pintails are dabblers, feeding on aquatic plants and small invertebrates. Nesting occurs on the ground under vegetation and near water. They are found on waters with a degree of salinity: such as brackish lakes, estuaries, and mangrove swamps.
SILVER TEALS
PATO CAPUCCINO – Anas Versicolor  (31 cm)
The Silver Teal's range includes southern Bolivia, southern Brazil, Paraguay, Argentina, Chile, Uruguay, South Georgia, South Sandwich Islands, and the Falkland Islands. The southernmost birds migrate to southern Brazil in the winter. Silver Teals are generally placid ducks but are protective of eggs, their young, and females. They have a black cap that extends below the eyes, and a bluish bill with a yellow tip. They also have a green speculum with a white border.
WHITE-FACED WHISTLING DUCK
SIRI PAMPA – Dendrocygna Viduata (38 cm)
The White-faced Whistling Duck (Dendrocygna viduata) is a whistling duck, that breeds in sub-Saharan Africa and much of South America. This species is gregarious and, at favored sites, flocks of a thousand or more birds show at dawn and are an impressive sight. As the name implies, these are noisy birds with a clear three-note whistle. These ducks have long grey bills, long heads, and longish legs. They have white faces and crowns, and black rear heads. The back and wings are dark brown to black, and the underparts are black—although the flanks have fine white barring. The neck is chestnut. All plumages are similar, except juveniles have a much less contrasted head pattern. Habitat consists of freshwater lakes or reservoirs, with plentiful vegetation where this duck feeds on seeds and other plant food. These abundant ducks are largely resident, apart from localized movements of up to 100 km or more.
SOUTHERN WIGEON
PATO OVERO –  Anas Sibilatrix  (45 cm)
The Chiloe Wigeon is one of three species of wigeon in the dabbling duck genus Anas. Unlike other wigeons, the sexes appear similar (although drakes are slightly brighter) and pairs are monogamous. This bird has a metallic green head, and a gray bill with a black tip. Its breast is barred black-and-white and its sides are orange-brown. It has white cheeks, a white forehead, and white on its wings. These ducks are found in southern South America on freshwater lakes, marshes, lagoons, and slow flowing rivers. They breed in the Falkland Islands, Argentina, Uruguay, and Chile, and migrate to southeastern Brazil for winter.
SPECKLED TEAL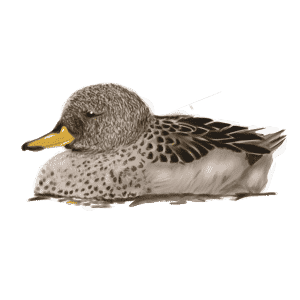 PATO BARCINO – Anas Flavirostris (33 cm)
Similar to other teal, Speckled Teals belong to the diverse genus Anas. More precisely, they are one of the "true" teals of subgenus Nettion. Their DNA sequence is similar to the Green-winged Teal—although the two species share little outward resemblance. Apart from its relationship with redand-green headed teals, Speckled Teals closely resemble Indian Ocean Teals. But their uni-colored underside and namesake bill are unique.
CINNAMON TEAL
PATO COLORADO – Anas Cyanoptera  (33 cm)
The Cinnamon Teal is a small reddish dabbling duck found in the marshes and ponds of western North and South America. Adult males have a cinnamon-red head, a brown back, red eyes, and a dark bill. Adult females have mottled brown bodies, a pale brown head, brown eyes, and a grey bill. They are similar in appearance to female Blue-winged Teals; however, their overall color is richer, and the lore spot, eye line, and eye ring are less distinct. Their bill is also longer and flatter. Male juveniles resemble female Cinnamon or Blue-winged teals, but their eyes are red. These dabbling ducks survive on plants, although their diet may include mollusks and aquatic insects.
ROSY-BILLED POCHARD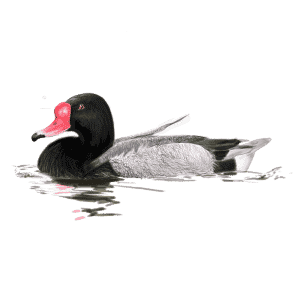 PATO PICAZO – Netta Peposaca  (47 cm)
The Rosy-billed Pochard comes from the species peposaca—derived from a Guaraní word for "showy wings." The wings feature a broad white stripe that is only visible when stretched out. Male ducks have a distinctive red bill, while the female's is slate-colored. Though classified as a diving duck, this pochard feeds more like a dabbling duck. The Rosy-bill is genetically linked to the Canvasback and the females of both species are virtually identical. The drakes are adorned in shades of black and white, with a flaming red bill featuring a fleshy knob at the base. The Rosy-billed Pochard is endemic to South America. The population in southern Argentina migrates northward during the austral winter, reaching Brazil and southern Bolivia. It is a vagrant to the Falkland Islands.

RINGED TEAL
PATO DE COLLAR Callonetta Leucophys (28 cm)
The Ringed Teal is a small duck found in South American forests. It is the only species of the genus Callonetta. Usually categorized with dabbling ducks (Anatinae), this species may be closer to shelducks and belong to the subfamily Tadorninae. The Maned Duck is believed to be a close relative. Males and females remain colorful through the year, lacking an eclipse plumage. The drake has a rich chestnut back, pale grey flanks, and a salmon-colored breast with black speckles. A black band runs from the top of its head down to the nape. Females have an olive-brownish back with the head blotched and striated in white, with penciled barring on a pale chest and belly. Both have dark tails, a contrasting pale rump, and a distinctive white patch on the wing. Bills are grey and legs and feet are pink in both sexes. Pairs easily bond. Their calls are a cat-like "meowing" in ducks, a lingering "peewoo" in drakes.
BLACK-HEADED DUCK
PATO CABEZA NEGRA Heteronetta Atricapilla (34 cm)
The Black-headed Duck of South America resembles a typical diving duck—the product of convergent evolution in the ancestors of the stifftailed ducks. Males have black heads and mantles and paler flanks and bellies. Females are pale brown overall. They inhabit swamps, lakes, and marshes, and dabble on water plants and insects. The females lay eggs in the nests of other birds, earning them the nickname "Cuckoo Duck." Hosts include the Rosy-billed Pochard, as well as other ducks, coots, gulls, and birds of prey. After a 21-day incubation period, ducklings fledge after a few hours before leaving their broodmates and fending for themselves.hunters a pass shot.
RED SHOVELER
PATO CUCHARA Anas Platalea (36 cm)
The Red Shoveler is found in southern South America, Argentina, southern Peru, southern Bolivia, Uruguay, Paraguay, the Falkland Islands, South Georgia, South Sandwich Islands, southern Brazil, and Chile. In winter the southernmost birds migrate north to Brazil and Peru. The Red Shoveler is cinnamon in color with dark spots and a green speculum. The head and neck are grayish. They have a large dark spatula-shaped bill.
YELLOW-BILLED PINTAIL
PATO MAICERO Anas Georgica 39 cm)
The Yellow-billed Pintail has a brown head and neck. Their bills are yellow with a black tip and black stripe down the middle. The tail is brownish and pointed. The upper wing is grayish-brown, and the secondaries are blackish-green. The rest of the body is buffish-brown, with varying size black spots. The species is sometimes confused with Speckled Teal, but can be differentiated by yellow stripes on the bill and its larger size. Females hide their nests in vegetation close to water, and lay 4 to 10 eggs in a clutch.
BRAZILIAN DUCK OR TEAL
PATO CUTIRI Amazonetta Brasilensis (35 cm)
The Brazilian Teal or Brazilian Duck is the only duck in the genus Amazonetta. It was formerly considered a perching duck. Today it is believed to belong to a clade of South American dabbling ducks, which includes the Crested Duck and the Bronze-winged Duck. The ducks are light brown. Drakes can be distinguished from females by their red beaks and legs, and the distinctive pale grey area on the side of the head and neck. Female limbs are much duller in color. Brazilian Teal live in pairs or in small groups of up to 20 birds. Both parents look after their hatchlings. They eat seeds, fruits, roots, and insects—while ducklings eat only insects. They can be found throughout eastern South America, from Uruguay to northern and eastern northern and eastern Argentina, Paraguay, central Venezuela, Brazil, northeastern Peru, Suriname, Guyana, French Guiana, eastern Bolivia, and eastern Colombia. Their preferred habitat consists of freshwater away from the coast, with dense vegetation nearby.
TESTIMONIALS
THE HUNTING
A typical day at Los Crestones:
Most mornings, you will be hunting ducks over decoys in nearby ponds. Guests will gear up and depart the lodge in the dark following a hearty breakfast, with everything from waffles to eggs benedict. Hunters are then placed in double blinds, or large sunken "buckets" (similar to an individual pit blind), or on platform-pallet blinds. A guide and an experienced retriever will accompany each pair of hunters. It is the guide's job to call ducks for you, as well as spot them, while it's the dog's job to make sure 100% of the birds are collected. You can expect to encounter as many as ten or more species each day—and your guides are able to call them all into a decoy spread.




After the hunt ends, hunters typically return to the lodge for lunch and a siesta before heading out again. Afternoon agendas can vary. Some days, for instance, you can hunt perdiz in the rich pastures near the lodge. Our experienced guides will work with their team of pointers to provide you with the best possible sport. We use mostly English pointers, German shorthairs and brittanys. Walking for perdiz is easy; the land is generally flat, which makes it suitable for almost any hunter. Other afternoons you will enjoy dove shooting, or wild pigeon hunting over decoys when available. As far as dove shoots are concerned… let's be clear, this is not Córdoba. You will, nonetheless, enjoy boxes and boxes of action each afternoon!
Standard Programs based on 4 nights and 8 hunts means hunters will get 4 morning and 4 afternoon hunts. We normally arrange: 3 morning ducks hunts, 1 morning perdiz hunt, 1 afternoon duck hunt, and 2 afternoon dove shoots.
LOS CRESTONES LODGE: BIG GAME HUNTING OPPORTUNITY
Brought from India to Argentina in the late 1800s, Blackbuck antelope quickly established a foothold across the fertile countryside south of Buenos Aires. In the early 1900s, they were introduced to other areas of the country where wild, free-ranging Blackbucks continue to flourish—especially in la Pampa province. Today, prolific Blackbuck herds can be targeted within a short 45-minute drive from Los Crestones Lodge. And here we hunt the area where Blackbucks were first introduced thanks to leases and hunting rights at local ranches. Typical hunts involve spotting and stalking trophies along established routes between feeding grounds. Ground blinds and, sometimes, tree stands can be set up for archery hunters near known watering holes and fence crossings. For the ultimate challenge, there's nothing like stalking Blackbucks with a bow in the field. Rifle hunting for an average, representative buck can be accomplished in one day. On the other hand, we suggest booking at least two or three full days to scout and shoot a large specimen. The same goes for bow hunters.




In addition to Blackbuck options, the lodge has Axis deer. Axis deer thrive in the bushy areas of east central Buenos Aires province. Similar to Blackbuck pursuits, one full day on these animals adds big game diversity to your bird hunting adventure. But in order to harvest a trophy buck we suggest two to three hunting days on productive local ranches. Our experienced guides will cater to all your hunting preferences. We have accurate rental rifles. We also have archery gear, but since a bow is something personal, we strongly suggest bringing your own. We take care of trophy preparation, according international export requirements, as well as export paperwork and shipping logistics. No details are left to chance.
AXIS DEER & BLACK BUCK
Drive times vary depending on the selected hunting area. Usually from 30 minutes to an hour and a half. Pairs of hunters will be accompanied by a guide. All guides speak good English. When on horseback, the hunting party will also be accompanied by a gaucho, who'll take care of the horses and help pack the harvested game.
Usually hunters will stay out all day, having lunch in the field. Half-day (morning or evening) hunts can also be arranged. For hunting some of our more distant Axis deer locations we offer lodging on a local ranch to avoid long drives.
GUNS
AVAILABLE FOR RENTAL
Many of our guests find that renting guns from the lodge they are visiting to be an easier solution than applying for consular permits and traveling with their own shotguns. It's easy to rent a gun from the lodge. We have a good selection of guns that are appropriate for the destination at each lodge. Just browse the gun rack until you find a gun that you like. Then, the lodge manager or your guide will note the specific number of the rental gun. That gun will be yours for the duration of your stay. However you are welcome to change guns along the way and try something different if you wish. You are only charged for one rental so you can switch guns if you wish. We want you to shoot a gun you are comfortable and effective with! You will settle up for the rental at the end of your stay, when you are charged for shells and other expenses.
Here is a listing of the guns we have at the lodge presently:
Over & Under
28 Gauge
Beretta
687 Silver Pigeon
2
20 Gauge
Beretta
687 Silver Pigeon
4
20 Gauge
Browning
Superposed
1
12 Gauge
Browning
B525
1
410 Gauge
Beretta
687 Silver Pigeon
1
SemiAutomatic
20 Gauge
Winchester
SX3
4
12 Gauge
Benelli
Vinci
1
12 Gauge
Benelli
Vinci Camo
1
12 Gauge
Browning
Maxxus
2
12 Gauge
Breda
Xthantos
2
12 Gauge
Beretta
391
4
12 Gauge
Bretta
A300
4
20 Gauge
Benelli
Montefeltro
4
20 Gauge
Benelli
M1 Field
2