La Dormida Lodge
[rev_slider laDormida]
[tabs] [tab title="Welcome"]
La Dormida Lodge – Dove Shooting – Cordoba, Argentina
We set out to build the finest dove shooting lodge imaginable. Come and tell us if we got it right.
The best dove shooting in the world coupled with the finest accommodations
Dusk-to-dawn dove flights
Short drives to the rolling hills
250,000 acres of the best fields in Cordoba guarantee challenge and diversity
Opulent field lunches served under canvas.
The lodge itself, a perfect manifestation of a sporting retreat
Ideal for private parties looking for a top-shelf shooting holiday.
[/tab] [tab title="Location"]
Location
Located in the province of Cordoba, in Central Argentina, 80 miles (130 km) North of the Cordoba City International Airport. Driving time 1:35 hr.
To get to La Dormida Lodge there are daily direct flights from many U.S. cities to Santiago, Chile with connecting flights to Cordoba city. That will allow you to make the most of your trip as using most flight schedules, you will be dove shooting at midday on the day of your arrival.
Hunters may also fly into Buenos Aires (Ezeiza International Airport), transfer to the domestic airport and take a 1 hr flight to Cordoba.
[mappress mapid="3″]
[/tab] [tab title="The Shooting"]
The Shooting
Cordoba is considered the dove shooting capital of the world. The 100 square mile radius (160 km) around the lodge is annually inhabited by over 50.000.000 million doves, and the birds reproduce over five times per year. The lodge maintains 55 shooting fields all within a short drive through the region's rolling farmland.
Each day the lodge donates hundreds of doves to a local food kitchen that serves the area's underprivileged children.
The program generally starts at 8:00 AM with a hearty breakfast and short drive to the shoot.
In the field you will be assigned a bird boy, who will provide you with shells and refreshments and direct you to your shooting stand.
You will be visited frequently by our head guide who will be available to assist you with any need, even giving you some tips on your shooting if required.
Depending on the time of the year you will shoot till noon when you will be treated to an incredible barbeque lunch, shaded by a comfortable safari tent, tasting some of Argentina's wonderful beef and superb wines.
Afternoon begins at around 2 or 2:30 hr., and continues until almost dark. There is no quitting time, good sense and tired shooters dictate when the day is through.
Return to the lodge for cocktails and early dinner.
Guns
28 Gauge
Berettas over and under. Models: Silver Pigeons with 28 inch barrel and Onyx with 26 inch barrel.
20 Gauge
Benelli semi automatics. Models: Inertia Driven models Montefeltro and M1, with no plug.
Berettas over & under. Models: Silver pigeon 28 inch barrel; single trigger and non automatic safety; 686 and 687 26 inch barrel.
12 Gauge
Benelli Vinci semi automatics Models: Montefeltro, M2 and Supersport (30 inch barrels).
Berettas over and under. Model: silver pigeon 28 inch barrel, single trigger.
[/tab] [tab title="Species"]
Eared Dove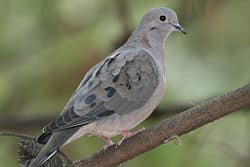 This bird was named Eared Dove for a dark patch of feather on the side of the bird's upper cheek that looks like an ear. These doves are the size of the popular Mourning Dove in North America, and in the hand, it is difficult to tell the two species apart. In the Cordoba region, farming practices and vast roost areas allow these birds to thrive at epic population levels. Various recent estimates put the Eared dove populations in excess of fifty million birds.
[/tab][tab title="Accommodations"]
Accommodation
La Dormida Lodge will accommodate 10 dove shooters, or depending on the configuration of the group, 12 total people. We have 4 single rooms, each with a large (queen) bed and 3 double rooms with two beds in each. All rooms have private ensuite bathroom.
In addition, La Dormida offers a large dining room with a spectacular dining table, a sitting room and bar, and a large, comfortable courtyards with a fire pit and a plunge pool.
We also have many of the important necessities and some extras that you may or not expect to find in a shooting lodge, including; a recreation room, gun cleaning table and facilities, telephone, Internet access (WIFI), maid and laundry service, masseuse; our gift shop offers local artwork and crafts, logo wear and accessories. We can easily arrange historic tours, shopping trips and horseback riding.
Cuisine & Wines
Our guests say that it is difficult for them to describe our shooting to others–because you cant put the shooting into words, and a still photo doesn't do it justice. There are just so many doves, every minute of every day. We feel the same way about the dining we provide for our shooting clients–just telling you about it doesn't scratch the surface. You have to come and shoot with us, and smell the fresh, hot, empanadas steaming in a wicker basket, smell the baby goat or lamb grilling over orange coals, taste the earth in carrots grown in the lodge garden, or the flavor of plums and cinnamon in one of our fine Malbec wines. At La Dormida, we take your dining experience seriously, and we strive to make every meals as wonderful as every trip to the field.
The big difference at La Dormida is that you have choices, and it is both a privilege and an innovation to offer ala carte dining to our shooting guests. No other lodge in the shooting world offers such choices. For breakfast choose eggs prepared any one of six ways. Or perhaps you'd like waffles, porridge, or French toast? Coming right up.
Our field lunches are legendary, and are served al' fresco in the shooting area each day. Lunch will feature a variety of meats and salads, grilled dove breasts, a fillet or our tender beef, several varieties of our famous sausages, short ribs, plus lamb, grilled chicken or other meats. To the meats we add several salads, bread we make in our own kitchen, plus beverages and a nice desert. Not surprisingly we also bring hammocks to lunch in case you need a little siesta.
The evening meal is a celebration of fine dining, yet in a casual setting, and it is a chance for our in house chefs to really shine. Again, options are ala carte, so if you are enjoying our famous beef and wish to enjoy a steak each evening, we'll happily grill one to order, but if you'd dare be a bit more adventurous and would wish to try Risotto with calamari ink, or grilled trout with tomato puree, then we'd encourage you to join us with our specialy dishes. Finally, there are the desserts. Each day brings a new creation, from flan to our local delight, dulce de leche, plus fruits, homemade ice creams and pies.
Wines
A special note about our wines. Great wines are part of the Argentine culture, and part of our daily lives. Here in Cordoba, you can buy wines in a convenience store or a gas station. The problem is, many outfitters buy them there, on a shelf next to the wiper blades. That just doesn't fit. We have partnered with several unique and very special vineyards, and they provide us with wines that join the foods we serve, in harmony. Our cellars are extensive, and we are happy to introduce you to our Malbec wines, which are known throughout the world as an Argentine treasure. Other spirits are also available, but of course we ask you to enjoy in moderation
[/tab][tab title="Testimonial"]
Testimonials
"Lodge was excellent, food was excellent, shooting was excellent, service was excellent! Wish we could have stayed longer."
Greg B.
"Great food. field set ups. Hammocks, wine, asado. All terrific."
John B.
"Extremely professional, quality of experience was beyond expectation"
Robert A.
"I was blown away with the shooting and with the quality that the members of this establishment holds themselves to. Absolute excellence!"
Brendan A.
"There was lots of doves and amazing service from all of the staff!"
Landon C.
"Everthing was great! The hunt, the food, and the accommadations were by far the best I have ever had."
Jacob L.
"4 years in a row the best hunting experience I have had in 30 years + 10 countries."
Tom Dansby
"I was told this was the best wingshooting experience in the world. I agree 100%."
Robert Jakusz
"The people, lodge, food, hunting was excellent!! We have used David Denies 4 times now & will definitely come back!! Joaquin & Diego were professional & did a great job! Thank you for everything!!!!"
Vanessa Falk
"Our group from Texas has been shooting with David Denies Wing shooting for over fifteen years and have always had great hunts. This year, however, may have been the best trip yet. The operation and facilities, under the direction of Joaquin and Poli, were excellent.
The guidance by Joaquin and his staff was skillful, friendly, and efficient. We were on birds every hunt. The food in the field was very good. The lodge facility at La Dormida was spotless and the food and service were the best we have had. It was a "world class" performance by all. We will definitely be back."
John S. J., Texas, USA
"I just want to thank you for everything you did to make my hunting experience even better. The lodge was so beautiful and it is obvious that it is being very well managed by you. Everyone was so friendly and made us feel right at home. Every one of my requests were honoured. You can be assured that I will be coming back."
Rick W., USA.
"The trip was fantastic. The service, guiding, was all exceptional. We loved La Dormida and do plan on returning at some point in the future."
Diego W., Greenweech, Connecticut – USA.
"Lodging, food, service and reception at the airport was just 5 stars all the way through. – If anything was wrong, then maybe too much excellent food. The wine was very good. With my best regards and tank you from all of us for some very memorably Dove shooting days at La Dormida. Your set up is excellent."
Iens I.B., Marbella, Spain.
"once again the trip was delightful and the lodge and staff were a pleasure. Everything was great and we look forward to returning."
Frank G., Reno, Nevada- USA.
"Our stay at La Dormida was excellent. The food and drink were great. The shooting, guides and staff was first class."
Tom E., Nevada – USA.
"We had a delightful time. From the pick up at the airport to the departure everything seemed to flow smoothly. The food was superb and plentiful. The hunts were, as always, terrific fun. Overall an absolutely fantastic trip…"
Glenn P., Texas – USA.
"We had an excellent time at La Dormida. The only complaint from our group was that we didn't stay long enough. Everything at the lodge was perfect – the setting, the accommodations and the food. I was very impressed with the logistics involved and they all handled them perfectly."
David W., Kerrville, Texas -USA.
[/tab][tab title="Photos"]
The Shooting
The Lodge
[/tab][tab title="Videos"]
Videos
High Volume Dove Shooting
La Dormida Lodge – Accommodations
[/tab][tab title="Pre Trip"]
La Dormida – Pre Trip Requirements
Please take a moment to download and read through the following information well in advance of your departure. It will help answer most questions concerning your stay.
If you are a group leader, please make sure to share this information with the rest of your group. It is vital that everyone in your group is fully prepared, understands the trip cancellation policy on refunds, and have the opportunity to purchase travel protection insurance, (especially anyone with a health issue).
Click Here to Download the Pre- Trip Requirements  
https://www.daviddenies.com/wp-content/uploads/2016/06/Program-Info-LaDormida-2018.pdf
[/tab][/tabs]